Celebrating 60 Years: Unveiling the Logo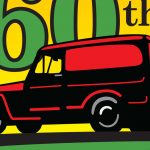 We are so excited to be celebrating our 60th Anniversary this year, and we have the logo to prove it! You may have already seen our new 60th Anniversary logo on this month's *West of the City* Ad, and you'll soon find it on more & more of our social pages & materials.
We asked the team at [**Compass Creative**](http://compasscreative.ca/) how they came up with the logo:
Jan Gelderman, a Dutch immigrant, founded Jan Gelderman Landscaping in 1955 with just $7.14 worth of tools and a 1948 Willys Jeep truck. To commemorate their 60th anniversary this year we wanted to create a logo that captured the humble beginnings of Gelderman Landscape Services, now a well-known and well-respected name in property management and landscape construction. And there are few things that communicate the passage of time quite as explicitly or as immediately as the style of the vehicles we drive.
The representation of Jan's Willys Jeep that we used in the logo was inspired by a charming historical image in the company's archive. The photo is a familiar piece of history to anyone who works at Gelderman. The Jeep itself, fully restored, will feature prominently in company celebrations this year, making it an even more meaningful choice for their commemorative icon.
The logo, illustrated in the style of the period, is a nostalgic look back. Yet the "retro" graphic borrows colours from the current Gelderman identity to fit nicely with the brand's lexicon today. The vintage look was also developed to play well on the range of swag that will be had, from posters and t-shirts to buttons and stickers.
Thanks Compass, we think it looks great!