Gelderman wins Outstanding Business Award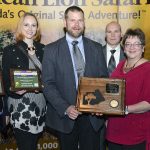 Gelderman Landscape Services has been recognized again for its business and service achievements with the presentation of the Outstanding Business Award (OBA) from the Flamborough Chamber of Commerce.
The presentation took place at the sold-out Chamber's OBA Gala on April 1, 2016, at the African Lion Safari facility. Also that evening, Gelderman received the Gold Judge's Choice and Silver People's Choice Awards from the Waterdown BIA's 2015 Waterdown Blooms display.
A number of Gelderman Landscape Services staff members joined company president Nathan Helder and his wife Michelle at the Gala. John Buikema, Landscape Sales and Project Manager, and Andrea Weddum, Landscape Designer, both accepted the Waterdown Blooms awards. Other team members at the event were Jane Green, VP of Finance and Administration; Grant Harrison, VP of Maintenance and Snow; Chris Mace, VP of Landscape and Design; and former owner Hank and Coby Gelderman.
Nathan Helder said, *"I thank the Chamber, the community of Waterdown for allowing us to operate here, my wife, and our staff members who make Gelderman who we are."*
To hear more, watch the Gelderman OBA Award video [here](https://www.youtube.com/watch?v=O4hzxW1toUk&app=desktop).
More information about the OBA awards, including the other winners, can be found [here](http://flamboroughchamber.ca/and-the-oba-winners-are-3/).
More info about the Waterdown Blooms awards can be found [here](https://gelderman.com/blog/332/gelderman-takes-gold-in-the-waterdown-blooms-competition).
Earlier in the year, Gelderman Landscape Services won three provincial awards for landscape installations in 2015.
Landscape Ontario presented the Awards of Excellence at the industry annual trade show at the Toronto Congress Centre. Gelderman won two awards for a private residential design, as well as a construction award. The third award was a construction project for the backyard landscape.
More information on the projects by Gelderman, which received the Awards of Excellence may be found [here](https://gelderman.com/blog/375/gelderman-wins-3-awards-at-the-landscape-ontario-awards-of-excellence-ceremony).
Next up for Gelderman Landscape Services is the Burlington Business Awards Gala being held on April 7 at the Burlington Convention Centre. Gelderman is nominated for Employer of the Year.