Gelderman's own Chris Mace wins LO's Designer Sector Group Outstanding Service Award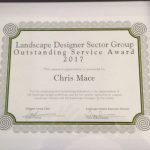 Congratulations Chris!
The Outstanding Service Award was presented to Chris by Landscape Ontario Executive Director, Tony DiGiovanni,*for the continuing and unrelenting dedication to the improvement of the landscape design profession, and for his creative initiatives to support Landscape Ontario and the Landscape Designer Sector Group.*
Chris was surprised by the award during the Landscape Designer Conference held during LO Congress. Chris's response to the award? *I get far more back by volunteering.*
Chirs has volunteered his time and services with Landscape Ontario's Designer Sector since 2011.
Well deserved Chris!